I have also appeared in some others places too. Have a look below and you'll see all places I've appeared that aren't on my blog;
If you'd like to collaborate with me on a new campaign, sponsored post or product review, I'd love to hear from you. You can email me on dadtasticvoyage@gmail.com or visit my 'Work With me'.
Awards: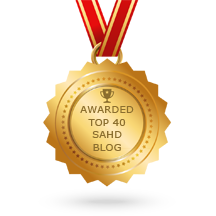 So far I have been ranked in the following:
Top 40 SAHD Bloggers. Ranked 24.
Also Features on:
If you'd like to work together, find out more about me by having a look at my 'Work with me' page.